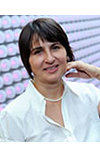 Dr. Beáta Nagy
Co-director of the Centre
e-mail: beata.nagy@uni-corvinus.hu
Room: C 405
Books:
Hard Choices: Hungarian Female Managers Abroad. in: Kate Hutchings - Snejina Michailova (eds.) Research Handbook on Women in International Management, Edward Elgar Publishing House, Cheltenham (co-author: Primecz Henriett): 2014, p. 246-275
Women in management – the Hungarian case In: Colette Fagan, María González Menéndez and Silvia Gómez Ansón (eds.) Women on corporate boards and in top management: European trends and policy, Palgrave Macmillan, Palgrave Book Series: Work and Welfare in Europe, 2012 221-244.
Obstacles and supports in women's career In: Chybicka, Aneta-Safdar, Saba F.-Kwiatkowska, -Anna (eds.) Culture and Gender: an Intimate Relation, Gdansk, 2010, GWP, 195-208.
Articles:
Exploring gender culture at a telecommunications company, Gender in Management, An International Journal, (co-author: Vicsek Lilla) vol:29, iss:6 318-333. 2014 DOI
http://dx.doi.org/10.1108/GM-01-2014-0008
"An Ebbing Tide Lowers all Boats": How the Great Recession of 2008 has Affected Men and Women in Central and Eastern Europe. in: Anne Eydoux, Antoine Math and Hélène Périvier (eds.) European labour markets in times of crisis A gender perspective. Special Issue of the French Economic Observatory review (OFCE review, Revue 133) (co-author: Fodor Éva) Spring 2014 p. 121-152

The Paradox of Employment and Fertility: an Introduction Review of Sociology Vol. 15 (2009) 2, 47-56
http://www.szociologia.hu/volume_15_nr_2_dec_2009/