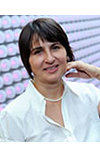 Dr. Beáta Nagy
Co-director of the Centre
e-mail: beata.nagy@uni-corvinus.hu
Room: C 405
Beáta Nagy is professor at the Corvinus University of Budapest. She received her PhD in sociology in 1996, and earned her habilitation doctorate in 2008. Her main research field is gender and work. She carried out several investigations on companies' equal opportunity policies, the gender culture of local governments and multinational companies. In 2015 has published a book on the lack of female students in IT and technology entitled In the Background. An Exploration of Organizational Gender Order. Her new research deals with the dilemmas of work-life balance.
In the period 2004-2010 she was the Hungarian expert in the Network of Experts in Employment, Social Inclusion and Gender Equality (European Commission). She was the Hungarian advocate of the initiative launched by the European Commission called 'Equality Pays Off'. She is a member of the board evaluating Bolyai Research Fellowship at the Hungarian Academy of Sciences.
She was the co-editor of the book series Artemis, produced by the Csokonai Publishing House.